OUR COMMUNITIES
McDonald's commitment to social responsibility dates back to our founder, Ray Kroc. Forty-nine years ago, long before the term "social responsibility" surfaced, Ray Kroc understood how important it was to give back to the community. It's part of our DNA. Supporting charitable activities addressing diabetes, arthritis, multiple sclerosis and chemical dependency, Ray Kroc provided our first model for McDonald's outreach.
We are proud to be a part of the communities we serve. Through involvement in youth sports, local charities, and events that inspire the world, giving back is an essential part of the way we operate every day.
Enriching Our Communities, Bettering Our Planet
We can all tell our Good Neighbor stories – because we've always taken actions to make our communities stronger and the world a better place.
Enriching Communities
We're championing healthier and happier kids and stronger communities through the Ronald McDonald House Charities®, sponsoring athletic teams, community volunteerism and teacher appreciation nights.
Bettering Our Planet
We are making progress around preserving the environment by using less energy, seeking sustainability food sources and reducing waste.
McTeacher's Night
McDonald's McTeacher's Night Program provides an opportunity for your school to raise funds. Friends and Families of the school are invited to visit McDonald's at a designated time period.
REQUEST INFORMATION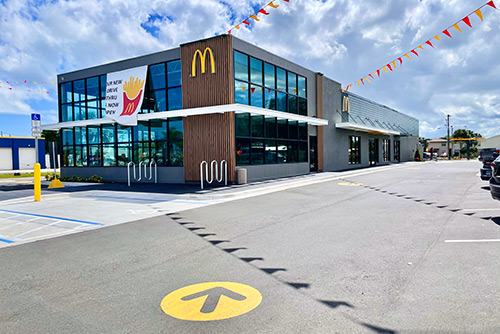 Orange Bowl
McDonald's® is proud to be an active member of your community. Our founder, Ray A. Kroc, believed McDonald's® should give something back to the communities where it does business. He established "The Orange Bowl" program and we proudly continue the program today. The Orange Bowl drink container is a special service provided by McDonald's® that puts fun in your organization's next social event.
REQUEST INFORMATION
Restaurant Tours
Request a tour for your group or organization! Learn more about the daily operations of your McDonald's restaurant and the commitment we share in providing a great dining experience for each customer, every day. You can also learn more about the many career opportunities we offer right here in your community.
REQUEST INFORMATION